Do you want to improve your basketball grip? Whether you are a beginner or an experienced player, having a good grip on the basketball is essential for shooting, passing and dribbling. In this blog post, we will teach you everything you need to know about becoming good at it. We will discuss the different ways to hold the ball, and give you some tips on how to improve your grip. Let's get started!
What is a good basketball grip and why is it important?
A good grip for playing basketball allows you to control the ball easily so that it has minimal movement when being held. It is important because it gives you better accuracy when shooting, passing and dribbling. If your holding is weak, the ball will move around in your hands, making it difficult to make accurate shots or passes.
How to improve your grip on the ball?
There are a few things you can do to improve your grip on the basketball. First, make sure that you are not holding the ball too tightly. A good grip should be firm, but not so tight that your hands start to hurt. Second, try to keep your toes spread out as much as possible when gripping the ball. This will help you to have best control over the ball. Finally, practice using different grips. There are a number of ways to hold the basketball, and each grip will give you a different level of control. Try out all of the different grips and see which one works best for you.
If you still feel that your grip is not good enough and that moisture on your hands is preventing strong grip, you may try the below:
use a towel to dry your palms often and keep them from being wet
use a special powder to improve your palming and grip strength
Different ways to hold the ball for different shots and passes
There are different grips that you can use for different shots. For example, when shooting a free throw, you will want to use a grip that gives you the most control over the ball. This is called the finger roll. To do this, place your hands across the basketball and then roll the ball off of your tips as you release it. This will give you a spin on the ball and help it to travel in a straight line.
If you are shooting a jump shot, you will want to use a two-hand grip. This gives you more power and control when shooting the ball. To do this, hold the basketball with both hands and spread your fingers out wide. This will help you to keep the ball stable in your hands as you shoot.
When passing the basketball, you will want to use a one-hand grip. To do this, hold the ball with your tips spread out and your thumb resting on top of the ball. Tuck your other hand behind your back to give yourself better control over the ball. As you pass the ball, be sure to snap your wrist to give it more power.
Finally, there is also the pinch grip. This is used when you need to dribble the basketball. To do this, hold it with your thumb and first two fingers. Pinch it and keep your hand close to the ground. This will help you to have better control over the ball as you dribble.
Tips for young players who are just starting out
If you are a young basketball player who is just starting out, here are a few tips to help you improve your grip on the ball. First, make sure that you practice handling the ball in different ways. This will help you to find what works best for you. Second, always keep your hands and fingers dry. Moisture on your hands will make it more difficult to hold the ball. Third, try to keep your fingers spread out as much as possible when gripping the basketball. This will give you the best control. Finally, practice shooting and passing with both hands. This will help you to be more versatile on the court.
The importance of practice and how to make it fun
Practice makes perfect. The best way to improve is to practice. The more you play, the more comfortable you will become with holding the basketball. As you gain experience, you will be able to use different grips for different shots and passes. You can practice by yourself or with a group of friends. Make sure that you have fun while you are practicing so that you will want to continue working on your skills. Developing this skill is important because it gives you best control. It allows you to make accurate shots, passes, and even dunk if you can also jump high.
Basketballs with good grip
Basketballs come in all different sizes and textures. It is important to find the basketball that works best for you in terms of stronger grip. You should be able to comfortably hold it with just your fingertips and thumb. If you can't do this, then it is too big or the texture does not fit your needs. Here is a list with some popular balls with a good grip that will help you gain more control in your game:
Bonus products specializing in grip:
Franklin grip rite basketball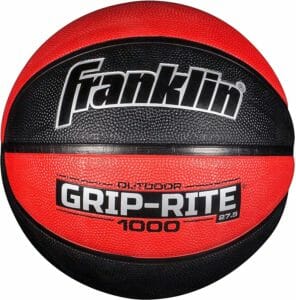 Extra Durability: The extra-durable rubber and durable polyester winding enhance longevity, while the smaller size makes it appropriate for even smaller hands.
Upgraded Handling: Deep-channel design provides for superior handling and control. This youth basketball will give years of dependability in a home, school, camp, or youth outdoor program.
Indoors AND Outdoors: Although this junior basketball is intended to be used outside, it isn't only for outdoor and is quite for home inside as well, whether in a garage or basement.
Perfect for Beginners: It's ideal for youth outdoor basketball games or as the first basketball for children. It makes an excellent youth basketball whether you're practicing at home or on the court.
Multiple Colors: This well-liked red-black basketball to green, blue, and traditional brown includes everything you need to play. The bright patterns will have you leaping off the court!
DSG techgrip basketball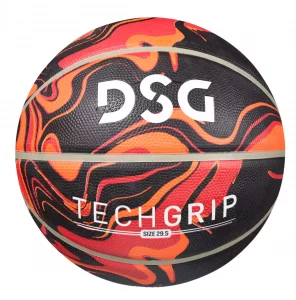 With the DSG® Techgrip, you may take your game from the street to the court. The DSG® Techgrip is designed with a sponge rubber covering for controll and allows you to drive the paint while maintaining control.
Features:
The correct size for All boys 12 year of age or older
Official Size: 29.5"
A sponge rubber covering gives more control
Created for indoor or outdoor use
Clawball by Swerveball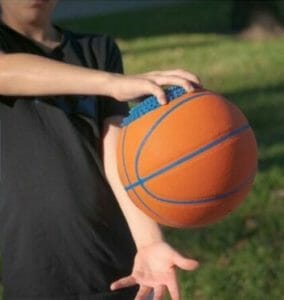 Swerveball's Clawball gives you greater control. Now you can palm a basketball like the best players with the specially designed Grip Zone. It is an intuitive system designed to help young players exercise and develop their ability to hand the ball
Features:
Use the same skills like the pros to palm a basketball.
The Grip zone, which is pending a patent
Best grip powder for basketball
The Mueller Stickum Grip Powder will enhance the handles immediately. When used with warm hands and a soft touch they can make sport activities such as basketball more comfortable. Specialized powder prevents sweat and helps in securing the ball with ease, refraining your palms from becoming wet. This powder absorbs water or sweat quickly and keeps you dry. They can help improve handling, which can diminish with a little sweat. Avoid using nonspecialized types of powder.
Features:
The powder, which is in a convenient form, includes rosin.
Shaker's simplicity and ease of use make it ideal for rapid application.
The powder can be washed away easily after the game.
Dry and no-mess application
Q&A with an expert basketball coach
Why can't I palm a basketball?
There are a few reasons why you might not be able to palm a basketball. It could be that your hands are too small, or that you're not gripping the ball correctly. If you have big enough palms and fingers but you're having trouble palming a basketball, try using powder. You can also try practicing to increase your grip strength to perform better
Can everyone palm a basketball?
No, not everyone can palm a basketball. In order to palm a basketball, you need to have large hands with long fingers. You also need to have good grip strength for best dribbling or shooting.
Does handgrip help basketball?
A good handgrip can help achieve better control when dribbling, shooting and passing. It can also help improve your shooting accuracy. Hence it does matter and ultimately it makes a big difference
What do basketball players use for grip?
There are a few things ballers use to help them improve their grip. Many players use powder, which they apply to their hands before games or practices. Some players also tape their fingers while playing to help keep the ball from slipping out
What does Lebron James use on his hands?
Lebron James uses chalk as a powder to improve his handling on the basketball. He also tapes his fingers together while playing to keep the ball from slipping out of his hands.
Do basketball players use chalk?
Yes, players often use chalk to improve their handle on the basketball. Chalk is a substance that absorbs moisture and can help keep your hands from getting sweaty during a game. It also helps to create more friction between your hand and the basketball, which gives you more control. In the game they also use a towel to dry their hands when needed.
How to grip a basketball with one hand?
There are a few different ways to grip a basketball with one hand. The most common one is called palming, which is when you wrap your hand around the basketball so that your fingers are touching the palm of your other hand. You can also use a finger grip, which is when you hold the basketball between your thumb and the first two fingers. Whichever grip you use, make sure you're holding the basketball tightly so that it doesn't slip out of your hand.
Why does my basketball have no grip?
If your basketball has no grip, it could be because its surface has become too slick from using it for a long time. You can try using a powder or tape to help improve your touch on the ball. You can also try sanding the surface of the ball to create more friction. If you have a leather basketball, you can try applying leather cleaner to it.
How to fix a worn-out basketball
Is your basketball slippery? Get the texture back in few easy steps. When playing outdoors in rain and dust, your ball can't be caught. Slippery basketball is painful especially when you are failing to get shot and lose possession. You must wipe the basket with water and wash it with soap and rub it into the water. The leather surface should be dried to remove excess moisture and apply leather cleaner while the rubber surface may be dried and reused.
Conclusion
A good grip is important for many reasons. It can help you control the ball better, improve your shooting accuracy, and prevent it from slipping out of your hand. There are a few different ways to handle a basketball, and each player may have their own preference. You can try using a grip powder or tape to help maintain your grip