Do you love playing basketball? Whether you're an amateur or a professional, having the best equipment is essential. That's why we've put together this list of the 7 best Wilson basketballs for indoor or outdoor use. Wilson is a trusted brand in the world of basketball, and their products are sure to give you the best performance possible. So whether you're looking for a ball to take to your next game or one to keep at home, we've got you covered! On the other hand, if you are looking for the best basketballs from all brands, check this page.
Wilson basketball: a well-known and trusted brand for basketballs
There are many reasons why Wilson is a trusted brand for basketballs. One reason is that they offer a wide range of ball types and sizes to choose from, making it easy to find the best ball for your needs. Whether you're looking for an indoor or outdoor ball, Wilson has you covered. They also have a range of prices to fit any budget, so you can get the best ball without breaking the bank.
Another reason Wilson basketball is a trusted brand is that its balls are made with quality materials and construction. This ensures that your ball will last for years, even with regular use. And if something does happen to your ball, Wilson offers a great warranty so you can get a replacement.
A big seal of trust is the decision of the NBA to use Wilson for its games. This is the highest level of basketball and the best players in the world use Wilson balls. If it's good enough for them, it's good enough for you.
So if you're looking for a new basketball, be sure to check out the great selection from Wilson. You'll find the perfect ball for your needs and you can be sure that it will last for years.
TLDR
| Use case | Suggestion | Picture | More Info |
| --- | --- | --- | --- |
| Best Wilson Basketball Overall: | WILSON NBA Authentic Series Basketballs (Details) | | |
| Best Value for Money Wilson Basketball: | Wilson NCAA Outdoor Basketball (Details) | | |
| Best Wilson Outdoor Basketball: | WILSON NBA DRV Series Outdoor Basketballs (Details) | | |
| Best Wilson Indoor Basketball: | Wilson Evolution Basketball (Details) | | |
Wilson indoor basketballs
Wilson basketball is one of your top choices when it comes to selecting an indoor ball. A Wilson leather basketball is after all the official ball of the NBA. So, if you are looking for the best indoor basketball to buy, then a Wilson basketball listed below can be the best purchase you ever made:
Wilson NBA ball (authentic series)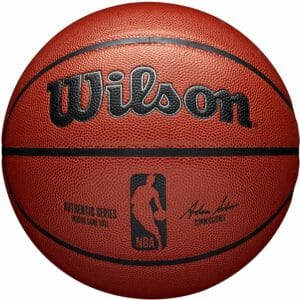 The Wilson NBA Authentic Series Game Basketball is the most elite basketball in the world, and we'll start our best Wilson basketballs review with it. It is the official game ball of the world's best basketball league, the NBA, from 2021. After 37 years, Spalding was phased out and replaced by Wilson in 2021. It is a great original Howrween leather cover ball for both indoor and outdoor use (as there are different versions of it). It is not inexpensive, to say the least (though its cost is affordable). It's ideal for someone searching for a high-end ball that will last longer than a year! Whether you're looking to improve your game or just need a new basketball, this would be your top pick in terms of fame and reputation.
Wilson Evolution basketball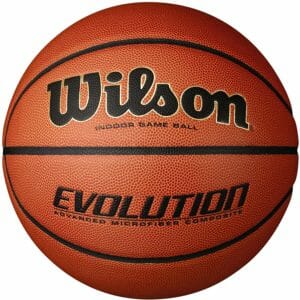 One of the best Wilson basketballs is the Wilson Evolution Game basketball. It has a leather exterior and the greatest grip of any basketball, but it is more expensive than an outdoor basketball. Use it indoors only because this extends the life of the leather ball. For this reason, it is currently the most popular basketball in the United States. It's one of the most popular indoor basketballs in gyms all around the world, having been used and tested for 18 hours each day in practice.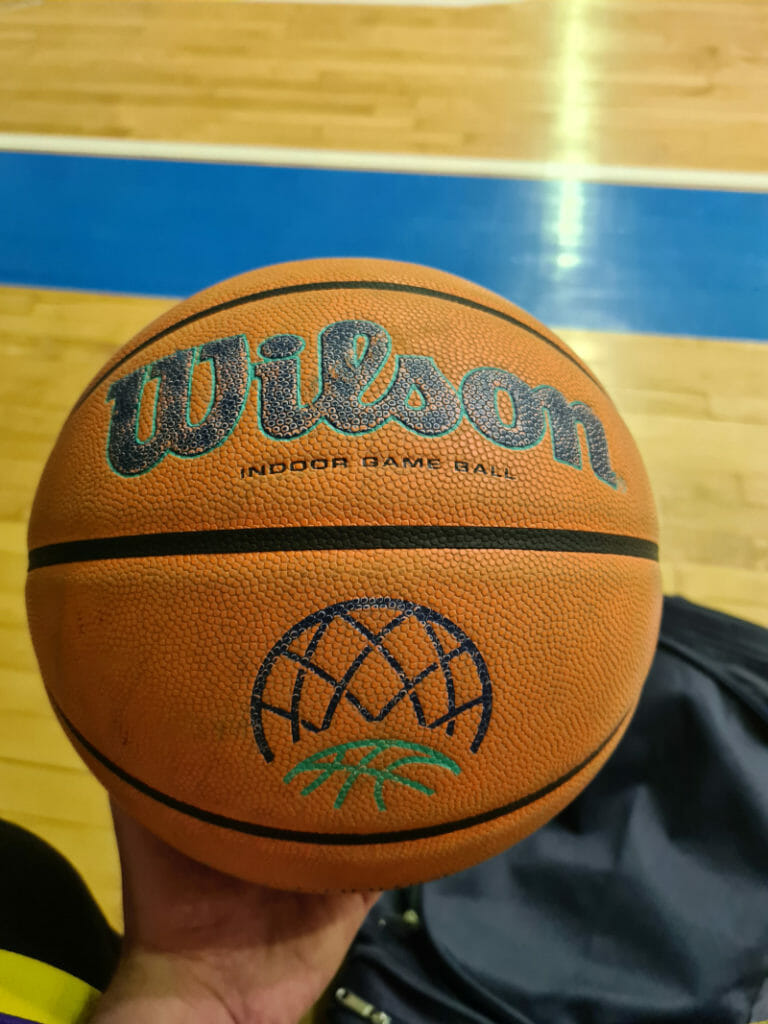 WILSON NCAA Evo NXT Game Basketball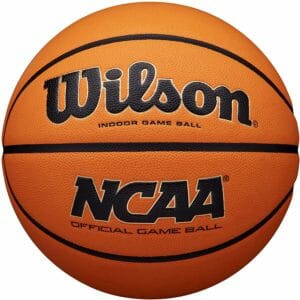 The Wilson NCAA Evo NXT Game Basketball is one of the best college indoor basketballs. It has a very similar construction to the Evolution basketball, with a few key differences. The main difference is that this ball uses Grip-iT technology for an even better grip than the Evolution. It also has deeper channels and a softer cover. This makes it more expensive than the Evolution.
Wilson Jet Competition basketballs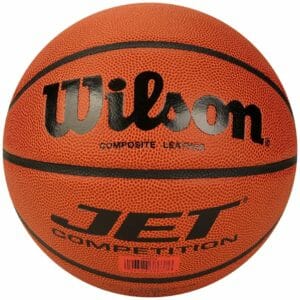 If you are looking for a great game ball for indoor basketball and you are not a fan of very expensive basketballs, then the Wilson Jet basketballs might be the perfect fit. It's one of the best pieces of sporting equipment for those possessing this indoor play baller instinct. Wilson Jets are great balls and they do not require any substantial break-in period.
Wilson outdoor basketballs
Apart from the best indoor basketballs, Wilson also produces a big selection of great outdoor balls. Some of them are composite leather basketballs that offer great endurance while also trying to imitate genuine leather balls. There are also cheap basketballs that can be used in more rough outdoor courts and still offer a high-quality basketball game. Hence, if you're looking for a durable ball to take to the park or beach, we recommend one of these below Wilson outdoor basketballs.
WILSON NBA DRV Series Outdoor Basketballs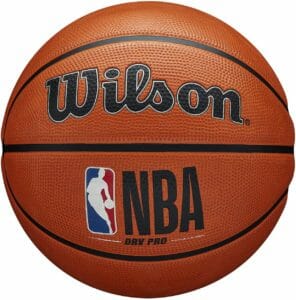 One of the best outdoor basketballs for people who want to spend a little more money. It's constructed of the highest quality rubber, which is ideal for intense games outdoors (outdoor model) and it comes in 3 versions (DRV, DRV plus, DRV pro). If you want your ball to stand out, there are a plethora of interesting color and design choices available.
Wilson NCAA outdoor basketballs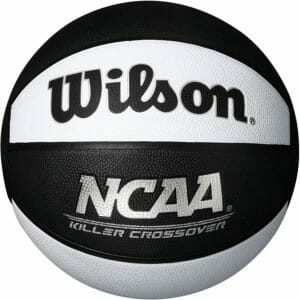 This Wilson NCAA replica game basketball is a both indoor outdoor basketball. This means that it can offer consistent bounce and ball handling both in indoor courts but also for outdoor play. Wilson NCAA final four edition basketball is one of its variations, the others being:
Killer crossover
MVP
Street shot
Elevate
WILSON NBA Forge Series Outdoor Basketballs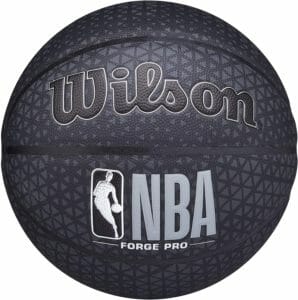 Another Wilson composite leather basketball that is worth mentioning as it is a great ball overall. It has a slightly different design that the DRV series and it is made of synthetic leather. It comes in three different sizes, official (7) and also 6 and 5. Moreover it offers 3 different quality versions: Forge, Forge Plus and Forge Pro.
FAQ
Is Wilson or Spalding basketball better?
That's an impossible question to answer since both companies produce outstanding basketballs. Wilson, on the other hand, is the greatest brand to use if you want an authentic basketball. Spalding makes high-quality non-official balls that may be utilized for both recreational and professional play because they have been producing Spalding NBA balls for a long time.
Is Wilson a good basketball brand?
Yes Wilson is a great brand that makes exceptional balls for professional basketball players. After all it produces the official game ball of the NBA.
Is Wilson reaction Pro a good ball?
Wilson Reaction Pro is an excellent ball for intermediate to advanced players. The cover offers great grip and feel, while the composite leather channels provide durability. It's perfect for indoor or outdoor use.
Why did the NBA change to Wilson?
The NBA changed from Spalding to Wilson because their contract was set to expire in 2021 (after 37 years). Wilson gave a better deal. Both brands, on the other hand, produce fantastic basketballs, so what ball should you choose should be a personal choice. Wilson is the obvious brand when it comes to official balls, but Spalding is the finest option if you are looking for a non-official ball.
Is Wilson the new NBA ball?
Yes, a genuine leather Wilson is the new NBA ball. The official game ball of the NBA has been Spalding NBA ball for a few years up until 2021. In 2021, their contract expired and they were able to renew it with Wilson. This does not mean that Spalding basketballs are no good; in fact, they make great non-official balls for both indoor-outdoor use. So if you are looking for an authentic NBA ball, then Wilson is the way to go, but if you want a high-quality non-official basketball, Spalding is still a fantastic option.
Conclusion
There is always a Wilson basketball that is perfect for both indoor and outdoor use. The best Wilson ball for you really depends on your skill level and what you will be using the ball for. If you are looking for an official NBA game ball, then Wilson is the best brand to go with. If you want a great ball for indoor play, then Wilson Evolution might be the best option. No matter what your needs are, Wilson has you covered. There are some great basketballs made for both indoor and outdoor basketball listed in this article. If you spot any great basketball that we have missed, please leave us a comment and we will address the issue! Thanks for reading!