Introduction
Are you in the market for a new basketball?
Did your old outdoor basketball wear out, after using it every day for the past years?
Are you trying to level up your game with a better quality indoor basketball, similar to the one that pros use?
Are you looking for the perfect gift for your beloved one that is also a huge fan of the game?
Surely you don't want to make a choice that does not fit your needs, as there are many different options and types of basketballs but not all of them are suitable for all use cases. Picking the wrong basketball might ruin your game experience.
Here at ballerinstinct.com, we have done all the hard work for you by reviewing and presenting the best basketballs, so that you can quickly and easily look through them and decide which one is best for your needs!
Our method of reviewing basketballs
All our basketball reviews are honest and impartial. They are a result of our own experience and lots of time spent with the balls (check who we are here) and also of thorough research online. As you would agree, just one person's experience (even if it is an outcome of everyday use) is not enough, since there might be positive or negative experiences of other users that did not just occur to me. For this reason, we went through user comments for the best basketballs in major review sites such as Amazon and are incorporating user sentiment in our reviews.
TLDR: The best basketball per use case for those that just need the verdict
| Use case | Suggestion | Picture | More Info |
| --- | --- | --- | --- |
| Best Basketball Overall: | WILSON NBA Authentic Series Basketballs (Details) | | |
| Best Value for Money Basketball: | Spalding Street Outdoor Basketball (Details) | | |
| Best Outdoor Basketball: | WILSON NBA DRV Series Outdoor Basketballs (Details) | | |
| Best Indoor Basketball: | WILSON Evolution Game Basketball (Details) | | |
| Best Indoor / Outdoor Basketball: | Spalding Zi/O Indoor-Outdoor Basketball (Details) | | |
| Best Basketball for Kids: | GlowCity Glow in The Dark Basketball (Details) | | |
We Reviewed the top 8 Basketballs for Sale Available in the Market
WILSON NBA Authentic Series Basketballs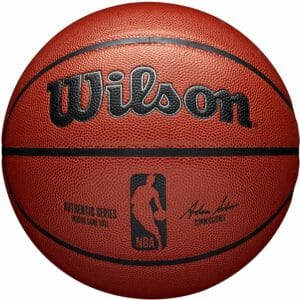 To start our best basketballs review, we present the most prestigious basketball in the world: the Wilson NBA Authentic Series Game Basketball. As of 2021, they are the official basketballs of the best basketball league in the world, the NBA, replacing Spalding, after 37 years. It is used by people all around the world and it's made right here in the USA. It is a great composite leather cover ball for both indoor and outdoor use, as there are different versions of it. As you might expect from such an internationally recognized name, it is not very cheap (we were pleasantly surprised by its affordability though), but it is perfect for someone looking for a high-quality ball that will last longer than one season! Whether you are trying to level up your game or just need to replace your old worn-out basketball, this would be your first choice in terms of recognition and prestige.
Spalding Street Outdoor Basketball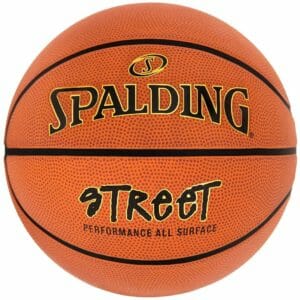 The best Spalding basketball for outdoor play for the best price, at least according to most reviews! It is made of durable rubber and has a great bounce. For its ridiculously low price (for such good quality) we recommend it as your first choice if you need an outdoor basketball and if you're not looking for recognition or best value. It comes in three sizes (5,6,7) so there is something for everyone. There is also a new 2022 version added to the original 2021 version. Whether you are playing with teammates or your best friends, this would be the best ball to buy. Being an outdoor basketball it is best suited for playgrounds and outdoor courts, not inside gyms (you would be looking for a leather quality basketball for indoor). Also, keep in mind that when taking care of it (for example, if you are taking it with you on a camping trip or during other outdoor activities), it should not be inflated to the max.
WILSON NBA DRV Series Outdoor Basketballs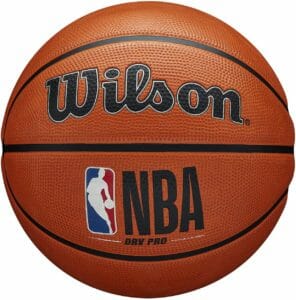 This is best outdoor basketball for people who are looking to spend a little bit extra money. It's made of best quality rubber, best suited for outdoor use (outdoor model) and it comes in 3 versions (DRV, DRV plus, DRV pro). If you are thinking about buying the best ball possible but don't want to spend too much money at once, DRV is best for you because it offers the best quality at a fair price. Go for the more expensive versions for even better quality. There are also many cool color and design options, if you want your ball to stand out.
WILSON Evolution Game Basketball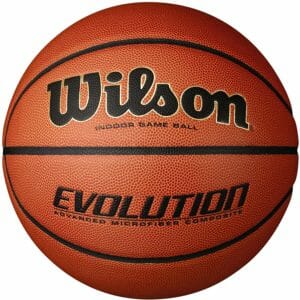 WILSON is well known for its best basketballs, of which Evolution Game is one of the best. It has a leather exterior and the best grip of all, but it comes at a premium price compared to Spalding Street. We recommend that you use it indoors only since this makes the leather ball last longer. It is currently the best-selling basketball in the USA for a reason. It is probably the most widely used indoor basketball by gyms across the country, being used and tested in practice for 18h/d.
Spalding Zi/O Indoor-Outdoor Basketball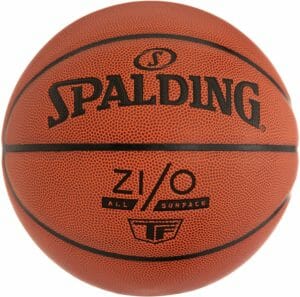 Spalding Zi/O is the perfect basketball for either indoor and outdoor use. If you want to play on an outdoor basketball court with your best buddies and you also want to use it in the gym, look no further, as this is one of your best choices. It makes good enough for both. It is made of composite leather, so it offers this "indoor basketball feel" with a good grip and softness for your hands, while at the same time you are not afraid to use it in the yard.
AND1 Xcelerate Rubber Basketball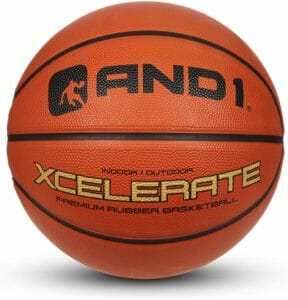 This ball is best suited for people who value the best bounce and best grip. You can use it both indoors and outdoors. This is a rubber AND1 ball designed to endure and resist wear and tear. It comes in classic orange color but also a fancy black version. The AND1 Xcelerate grip basketball has increased pebbling for enhanced ball grip and control when dribbling and shooting, making it ideal for young players.
The Rock Basketball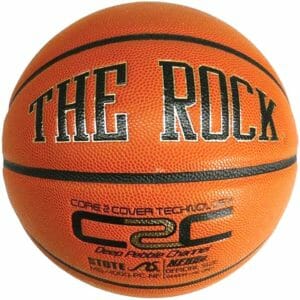 The Rock Basketball is a great ball has no logos, making it feel and play like leather with a super grip feel. The deep pebble construction gives you a better grip on the ball, while the reinforced double-ply butyl bladder ensures extra strength. With C2C (Core 2 Cover) Technology, a 100% nylon wound creates a better grip on the ball, and the sponge rubber patented exterior feels super soft and great for ball handling. The extreme scuff resistance keeps your ball looking new game after game. The best part is that it comes in relatively cheap compared to other great balls, making it one of the best indoor use balls for beginners.
GlowCity Glow in The Dark Basketball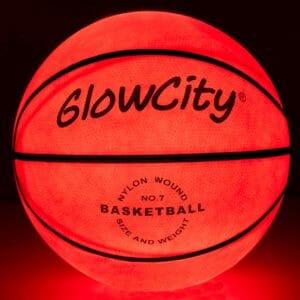 Glowcity Glow basketball comes with 2 LED Lights and Pre-Installed Batteries and it is a great gift idea for Boys and Girls that like to hoop! Until it gets dark out, the GlowCity rubber balls resemble a regular basketball until night falls, but then WOW! This is the best basketball for people who want to play in the evening or at night with minimal lighting. If you have a street hoop and the lights are not good enough, this ball is best for you. It can glow brightly in pitch dark conditions, so it is best for times when there's no light.
FAQs
Is Spalding or Wilson a better basketball?
Spalding and Wilson are both probably the best basketball brands out there. This is verified by the fact that those 2 brands have been interchanging in producing the official NBA basketball across all league history. Spalding's best seller is at their Zi/O best outdoor basketball while Wilson has a best seller in their best indoor ball – the Evolution Game. That said, there are many different options from both brands and there is no definite answer to this question. It also depends very much on individual player preferences.
What basketball does NBA use?
As of 2021, Wilson is the official basketball of the best basketball league in the world, the NBA, replacing Spalding, after 37 years. Before Spalding, it was again Wilson that had this prestigious nomination for another 37 years. However, the first NBA ball was produced by Spalding Bros back in 1984!
What kind of basketball is best for outdoors?
Composite leather balls. For an outdoor ball the ball's surface is very important. It needs to be made from durable material so that it can hold air and provide a solid grip and a more consistent bounce even in extreme weather conditions like wet terrain. For this reason composite leather balls can make a huge difference for outdoor use. Our suggestion for the right basketball when playing outside is the Spalding Street Outdoor ball.
What is the best selling basketball?
The best selling basketball currently on Amazon.com is the WILSON NBA DRV Series Outdoor Ball. This product has more than 1000 positive reviews by the best basketball enthusiasts. This ball is best for outdoor play and bests other basketball brands in this scenario. It has a rugged cover designed to deliver considerable grip on rough outdoor surfaces.
Which brand of basketball is the best?
There are many solid options in terms of great basketballs brands. The top ones are:
– Spalding
– Wilson
– Molten
– The Rock
– Under Armour
– Nike
– Jordan
– Adidas
– Mikasa
– And1
What to look for when choosing a basketball?
Size – basketball sizes vary from 3 to 7, with 7 being the official men's size that is also used in the NBA and internationally. If you are getting the ball for a kid you might want for size 5 or if you prefer a womans' basketball size, then you might want to select a number 6. Check Wilson for a detailed size guide.
Material – what basketballs are made of can vary. There a various options: from original leather balls (for indoor courts) to composite leather cover (that is also suitable for outdoor use and is the most widely used type of leather) or complete rubber made balls (the material most cheap basketballs are made – not suggesting that any rubber ball is cheap or low quality)
Use – Indoor basketballs offer a soft feel but although they are the best option for an indoor court, they may not be the right ball for an outdoor court. If you are looking for a consistent performance ball for your local park then you would want to look for durable basketballs that offer superior grip and are probably considerably cheaper
Conclusion
Whether you are looking for a beginner basketball or one that is more advanced to meet the needs of professional players; we have got you covered. Our review will help make your decision-making process easier and quicker than ever before! Have any final questions about our suggestions? Contact us today with your comments and concerns. We would love to hear from you!