Introduction
There are many basketball brands on the market, but which one is the best? Should you go for one of the big names or a lesser-known brand?
That can be a difficult question to answer. On this page, we have compiled a comprehensive list of some of the top basketball brands available. Whether you are looking for a basketball for your child or for a professional player, for you or for a gift, we have the perfect brand for you. We also provide information on where to buy these basketballs, so you can get started playing right away!
The top Basketball brand names
Here is a list of some of the top brands that dominate the basketball world:
Amazon brand
And1
McGregor
Rawlings
Chance
Voit
Tachikara
Nerf
Dunlop
Kuangmi
Reboil
Mikasa
This list has been assembled according to our vast experience playing and coaching in countless indoor and outdoor games in recent years but also on a review of the market today. We have also taken into consideration testimonials from basketball players who share their experiences with us.
Where to buy
The basketball brands that we have listed can be bought at major retailers like Walmart, Amazon, and Dick's Sporting Goods. However, some of the more specialized brands are only available online. So whether you are in the market for a basketball to play outdoors or indoors, on concrete or grass, we have got you covered! Just note that usually online, you can find great deals and get more bang for your money! You of course need to be wary and check that you are buying authentic brands because there are lots of fakes sold (also offline).
FAQ
What is the best brand for basketball?
Wilson or Spalding. The two most popular basketball brands in the basketball community are Wilson basketball and Spalding basketball. No wonder why, since those 2 brands have been producing the official NBA balls since forever.
However, we must always consider that each brand has its own unique features that make it perfect for different people. For example, if you are looking for a high-quality basketball that will last for a long time, then maybe The Rock might be the top option for you. On the other hand, if you are looking for a basketball with great grip and feel that has been recognized in Europe, then Molten could be a solid choice.
A big factor is also the type of game that you play. If you are mostly engaging in indoor basketball then you should go for one of the luxurious brands like Wilson and Spalding, while if outdoor play is your game, you may opt for other solutions that only focus on rubber and composite products like Mikasa or Rawlings.
Finally, it also depends on the amount of money you would like to spend. If you are just looking for an affordable basketball, then some of the Walmart or Amazon brands might be what you are looking for.
What basketball do NBA players use?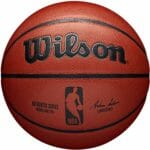 NBA players use Wilson. Since 2021, Wilson has reinstated itself as the official NBA basketball, after 37 years that Spalding had the nomination. Hence it is natural that many athletes mostly use Wilson balls also in their practice sessions, to get used to the basketball ball that they are using in real NBA matches.
Which is the basketball brand used in college basketball?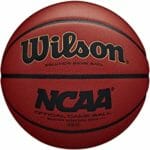 The NCAA tournament uses Wilson. However, in college basketball is used a mixture of different brands. Most colleges have contracts with multiple brands, so the athletes can choose the basketball that works best for them. Many schools refuse to stray from their primary sponsors. Nike brand is used by around 40 power-conference teams, far and away the most frequent.
What are the best basketballs?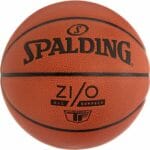 Here is our top list:
– WILSON NBA Authentic Series Basketballs
– Spalding Street Outdoor Basketball
– WILSON NBA DRV Series Outdoor Basketballs
– WILSON Evolution Game Basketball
– Spalding Zi/O Indoor-Outdoor Basketball
– AND1 Xcelerate Rubber Basketball
– The Rock Basketball
You may find the full list of the best basketballs with reviews here.
Which brand is used in high schools?
Usually, basketball brands that are used in high schools across the country are either Wilson, Spalding, Adidas, Nike, Converse brand or Under Armour. The ball brand used by the school and its developing young players is dependent on the sponsor of that particular basketball team. If a certain company has sponsored this basketball team, then they will provide their own basketballs to be used during games and practices. Usually, the same athletic brand is used on other sports of the school as well for clothing, footwear, and other athletic apparel, so those are not brands that solely focus on basketball.
Is there a specialized brand for Kids?
If you are looking for a brand for kids, there are several great options to choose from. One of the most popular brands is Wilson, which offers a range of basketballs designed specifically for children. These basketballs are made with durable construction, smaller sizes, and feature fun designs that will appeal to kids. Another popular choice among basketball brands for kids is Spalding basketballs. These smaller basketballs are made with a softer material than adult basketball, making them best suited to children who are just starting out in the sport and will not be playing competitively yet.
There are also niece brands like Glowcity basketball that are perfect for kids. These basketballs light up in the dark, making them ideal for playing at night or in low-light conditions. They also feature fun designs and colors, making them a great choice for children who want something different than the standard ball. Nerf as well, makes basketballs that are soft and safe for indoor use, perfect for kids who want to play ball in the house. These basketballs are made with a foam material that will not damage furniture or walls if they happen to bounce off of them. Some of their models can also be used in the water, making them perfect for playing at the beach or pool.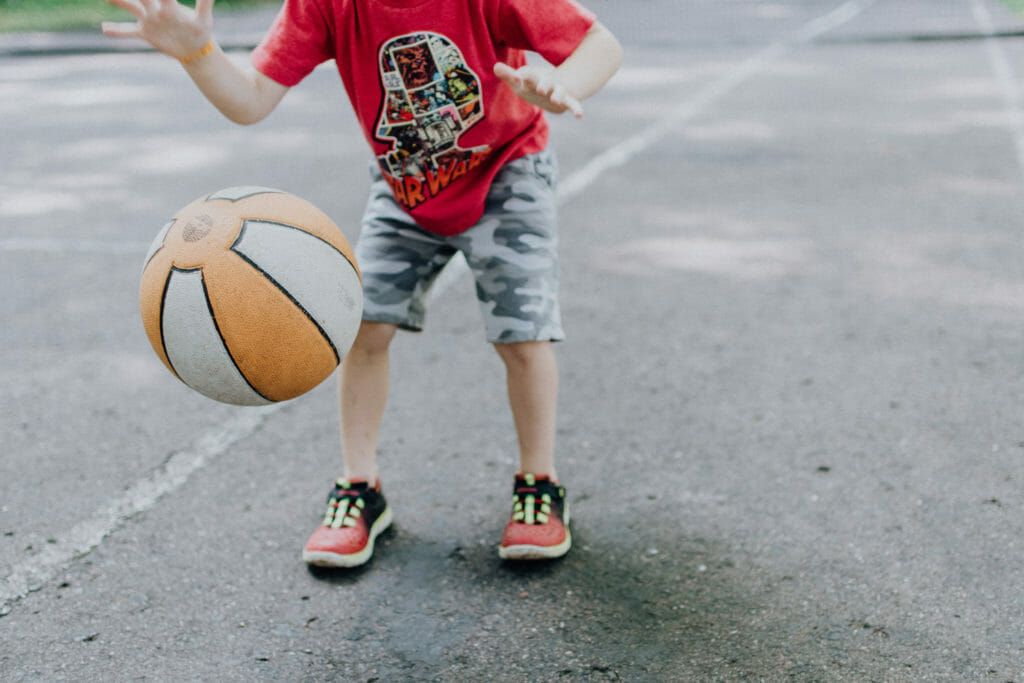 Conclusion
We've looked at some of the top brands for basketball balls, where to buy them and what people in the basketball community think is the best brand. The brands listed here are some of the most well-known basketball brands in the world. You can find basketballs from these brands at all different price points and sizes.
No one brand is the best for everyone. It all depends on your needs and preferences. However, we have compiled a list of some of the top basketball brands so that you can make an informed decision. Whether you are looking for an indoor or outdoor basketball, a high-quality ball or something more affordable, we have got you covered.
Whatever you decide on, make sure to choose a basketball that will last for years to come! If you need more information and reviews about basketballs, check here.
Do you think that we have omitted an important brand? Leave us a comment. Thanks for reading!